Love and
Other Rare Birds
Contemporary Lesbian Romance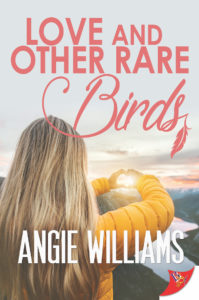 Ornithologist Dr. Jaime Martin doesn't have time for romance. She's spent her life living up to her biologist-turned-conservative-senator father's idea of who she should be. When she discovers that a bird thought to be extinct has been sighted in Alaska, Jaime seizes the opportunity to finally step out of her father's shadow and make her career her own.
As a park ranger in Alaska's largest national wilderness, all Rowan Fleming wants is to escape the stress of her failed marriage in the lower forty-eight. She needs solitude to heal her broken heart, so being ordered to act as a guide for an entitled senator's daughter isn't exactly a walk in the park.
Jaime and Rowan couldn't be more different, but as the landscape grows treacherous and remote, they're forced to work together to find the elusive bird. Three arguments, two whispered confessions, and one rogue bear later, they're beginning to suspect love isn't extinct, after all.
Cover Artist: Jeanine Henning
purchase at bold strokes books